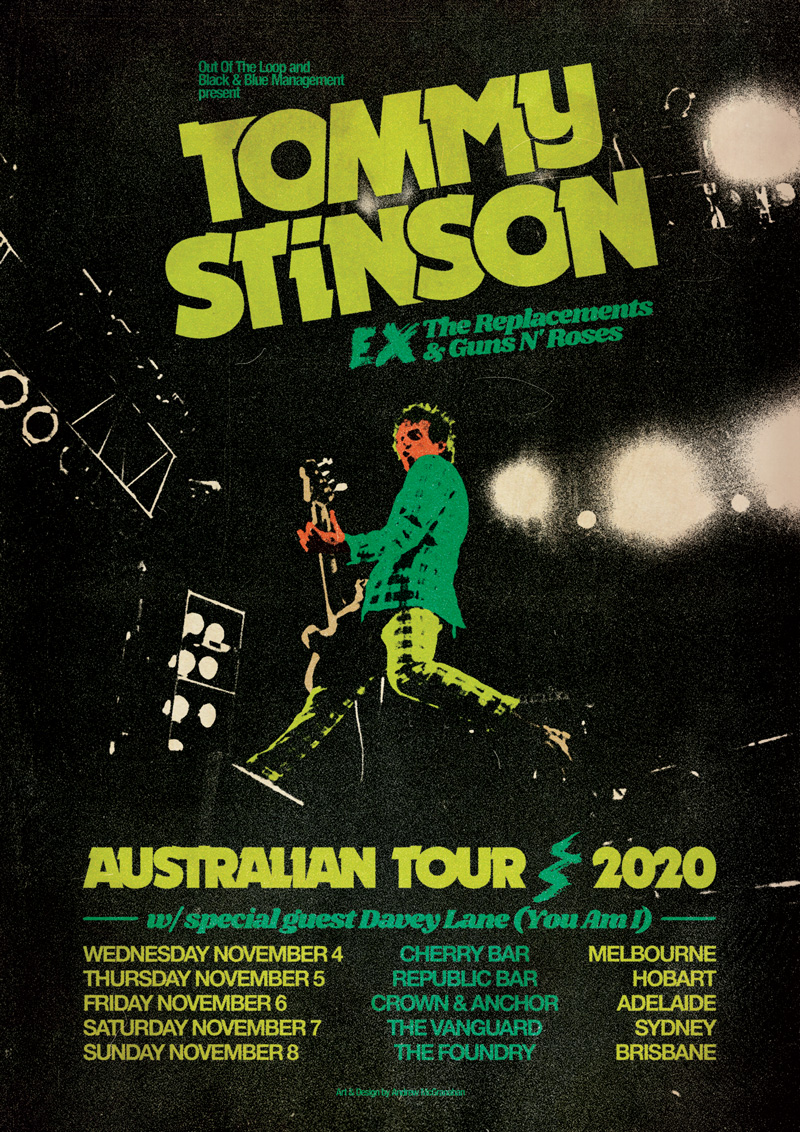 Tommy Stinson (The Replacements) Australian Tour Announced.
Joining what would become one of the most revered American bands of all time at the tender age of 11 would be an impressive enough feat, let alone dropping out of high school to go on tour with the band in support of their third album Let It Be, now considered one of the greatest albums of all time. Most people would consider those more than enough rock n' roll laurels to rest on, but Tommy Stinson's storied career has seen his iconic part in the DNA of The Replacements just one chapter in a career that has seen him form the bands Bash & Pop and Perfect, join fellow Minneapolis legends Soul Asylum and also spend many years as the highwire bassist in Guns n' Roses.
Joining his brother Bob and drummer Chris Mars in the proto-Replacements outfit Dogbreath before he'd started high school, the arrival of Paul Westerberg sealed the classic line-up of The Replacements as they started gaining notoriety in the Minneapolis music scene, a town that truly punches above its weight in the number of iconic bands and artists it has contributed to the rock n' roll pantheon. The story of The Replacements and their career gives true meaning to the expression 'snatching defeat from the jaws of victory' as they went from indie heroes on their local label Twin Tone to a troubled relationship with the corporate values of major labels. While often remembered for incidents ranging from their legendary drunken performance seeing them banned from Saturday Night Live, tours opening for the likes of Tom Petty & The Heartbreakers and The Rolling Stones' Keith Richards, The Replacements recorded output grew from strength to strength as they chronicled the often broken American dream; from teenage angst to coming of age, to shining a torch on the alienated, marginalised and downtrodden of the world. After imploding on the cusp of the 1990s, celebrity fans such as Lorde (who covered the band's 'Swinging Party') and The Hold Steady's Craig Finn and Miley Cyrus (who covered 'Androgynous' with Joan Jett and Against Me's Laura Jane Grace) have kept their flame burning brightly for a whole new generation of fans.
In addition to his work playing bass in iconic bands, Stinson's songwriting output became a focus over the last few decades with his groups Bash & Pop and Perfect, and critically acclaimed solo albums Village Gorilla Head and One Man Mutiny.
A lauded reunion of The Replacements from 2012-15 saw the band playing to enraptured fans at sold out gigs across Europe and America, and while sadly not making it to Australian shores, Stinson's love of Australian music saw You Am I invited to be The Replacements special guests at two now legendary shows at The Roundhouse in London. With many fans in the local music community, Tommy is set to treat Australian fans to his first ever solo tour Down Under with a set full of solo tracks, fan favourites and tales of his extraordinary career., with You Am I's Davey Lane his special guest at all shows.