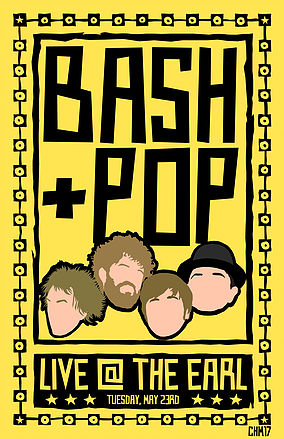 As the bad mojo of another Monday slowly exits your corporeal abode maybe a little live music on Tuesday night can help expedite the eviction process. While Atlanta has a multitude of live venues, each with their own peculiarities, the EARL has always been one of the best. This Tuesday night they once again demonstrate their booking acumen by bringing the phenomenal Bash + Pop to the stage.
Rising from the ashes of the Replacements, Tommy Stinson pieced together Bash + Pop in hopes of keeping the brash in your face attitude alive. While Bash + Pop had a short shelf life and never really captured that same Replacements vibe Stinson and crew dealt out some really good music. After years of various other projects, Stinson has resurrected Bash + Pop with a new group of musicians. The band has set out on tour to traverse the nation bringing music from a new album to the masses. This Tuesday night Bash + Pop will be at the aforementioned EARL in the East Atlanta Village jamming tunes to what should be a packed house. Blistering guitar riffs, raunchy rhythms and ballsy lyrics will have fans rocking their early week blues into oblivion.
The EARL has always been a bastion of good music and this Tuesday night is no different. Bash + Pop will blow the doors off of the place with their punk/pop rock attack sending the packed house back to work Wednesday morning feeling better about the week.
WHO: Bash + Pop
WHEN" Tuesday, May 23rd
WHERE: The EARL