By Tom Murray | June 22, 2017
There's a great quote from legendary Memphis musician and producer Jim Dickinson in regards to Tommy Stinson of alt-rockers Bash & Pop.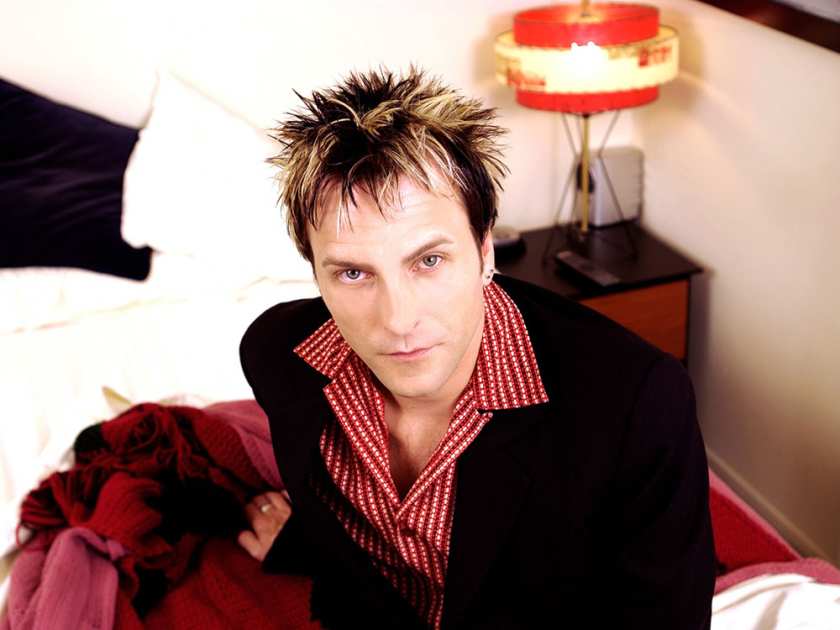 Those words have been making their way around the Internet recently with the release of Bash & Pop's latest album, Anything Could Happen. A long-delayed follow up to 1993's oft overlooked cult classic Friday Night is Killing Me, the album is also the first new recording Stinson has involved himself in since he left an 18-year tenure as bassist for Guns 'n' Roses in 2016, as well as a reunion and then sudden implosion of his first band, The Replacements, in 2015.
Long a colourful sidekick to eccentric frontmen like Axl Rose and Paul Westerberg (as well as Dave Pirner of Soul Asylum, who he played with from 2006 to 2011), Stinson has for decades been scrabbling at the margins as a songwriter in his own right, using multiple band names under which to record pure pop and joyous, Stones-y rock 'n' roll.
Forced to learn the bass at the age of 11 by brother (and fellow Replacements member) Bob Stinson, Tommy Stinson was an underage punk cranking out songs like I Hate Music and Rattlesnake in the early '80s.
He was barely 19 when the band jumped from the indie Twin/Tone label to sign with Warner Brothers subsidiary Sire Records, and a veteran touring musician at 25 when The Replacements broke up the first time in 1991.
Bash & Pop came directly after, but while the band's first album was critically acclaimed, it sunk quickly and Stinson retired the name a couple of years later. Uncertainly navigating the grunge scene of the mid-'90s, he finally found a certain amount of stability when Axl Rose asked him to join Guns 'n' Roses in 1998.
Anything Could Happen got a jump-start when Replacements frontman Paul Westerberg declared the band's reunion to be over during a festival show in Portugal. Stinson had already been collecting songs for inclusion on a possible new Replacements album, and instead reworked them for a solo venture — the Bash & Pop name was resurrected when many of Stinson's friends remarked on the similarity in tone.
We talked with Stinson about the new record, rocking at 50, and life after Axl,
Q: I guess the big question for me is whether Bash & Pop is an actual band, or is it just you playing a bunch of instruments with friends helping out?
A: It's an actual band. The guys who are touring with me now played on two-thirds of the record. These are all friends of mine, and we recorded the record in a band room that I had set up so that we could just cut everything right away. We even used the scratch vocal a few times.
Q: So, just like the first Bash & Pop record.
A: Yeah. I wanted to make a record like in the '80s — here are some songs, you do three takes (of each) and you're out of there. Pick the best one. That's how we did those early Replacements records, like in the Twin/Tone years, but we kind of lost track of that. When we got on a major label and had bigger budgets we would sit in the studio and tinker around. Now, when you listen back to those records, they sound a little disjointed. It was just fun to not fuss too much over the recording.
Q: Would you say that you do your best work when you feel like you're part of a gang?
A: Oh, yeah, absolutely. That's exactly it. All for one and all that, just like with The Replacements. The thing is that the guys playing on my record are all amazing musicians who are also my friends. I'm very, very lucky to be in a band with people like that.
Q: Speaking of which, have you talked with (Replacements frontman) Paul Westerberg in the last while? Has he heard your record?
A: Um, no, I doubt it. I haven't spoken with him in a while. I mean, we text each other stuff, just goofy things, but no conversation. I doubt he's heard my record because he's not the kind of guy who keeps up on what people are doing — he just sort of hunkers down and does his own thing.
Q: Just like Axl Rose.
A: I don't know if Axl keeps up, but I do stay in contact with all those people because they're still my friends. I haven't spoken with him in a couple of years, but I talk with his manager. There's no hard feelings or anything, I left that gig on good terms.
Q: I was always impressed that I never heard you bad mouth him the way that other people have.
A: That's because I have nothing bad to say. He was good to me. We had ups and downs of course, which you do have when you play in a band together for almost 20 years, but I have no complaints. At the end of the day it was a great experience for me, and I'm genuinely pleased to see them out there still doing their thing.

Q: I have to admit it was still strange for many of us to see you up there beside Axl Rose …
A: (Laughs) At the time I was having a bad experience with my band of the time, Perfect. We'd recorded a record and were ready to go on the road and make some money, but there were troubles with our label. I was pretty vulnerable, to be honest, and really exasperated. Then my buddy (drummer) Josh Freese asked me to come to G 'n' R practice because there was no bassist and it was weird to play those songs with no low end. There was no question that Axl wanted me to join at that point. He wanted to continue on with the band because he felt like "I'll be damned if I get this far in life and just quit." I thought it was a pretty punk rock move, to be honest. It lasted 18 years, a good run, and I still get tons of G 'n' R fans approaching me on social media thanking me for helping to keep it going, so they could get back to this point again. You know, I appreciate that.
Q: There are times when you must sit back and think of your journey from bassist in a band playing small, sweaty clubs to joining one of the biggest bands of all time.
A: Ha, ha. Well, punk was never meant to be a job, that's the rub of it. As soon as you make a living at it people automatically start to cry sellout. It was always meant to be a tight group of people. I've been lucky in that I've managed to skirt my way around that.

Q: Do you ever feel that Replacements fans want you to be the same guy you were 30 years ago, playing the role of drunken fool that you long ago cast off?
A: No, you know, I don't. It's kind of funny, because we've gotten a really good response to this record, and radio is playing it, which is bananas. People are coming out to shows and I really couldn't ask for a better scenario. We've got great gigs coming up, and to be honest, for me to still be doing this at the age of 50 is pretty great.
Bash & Pop
With: Ayla Brook & The Sound Men
When: Friday at 8 p.m.
Where: Starlite Room lower hall (Brixx), 10030 102 St.
Tickets: $25, available at the door or from
Ticketfly