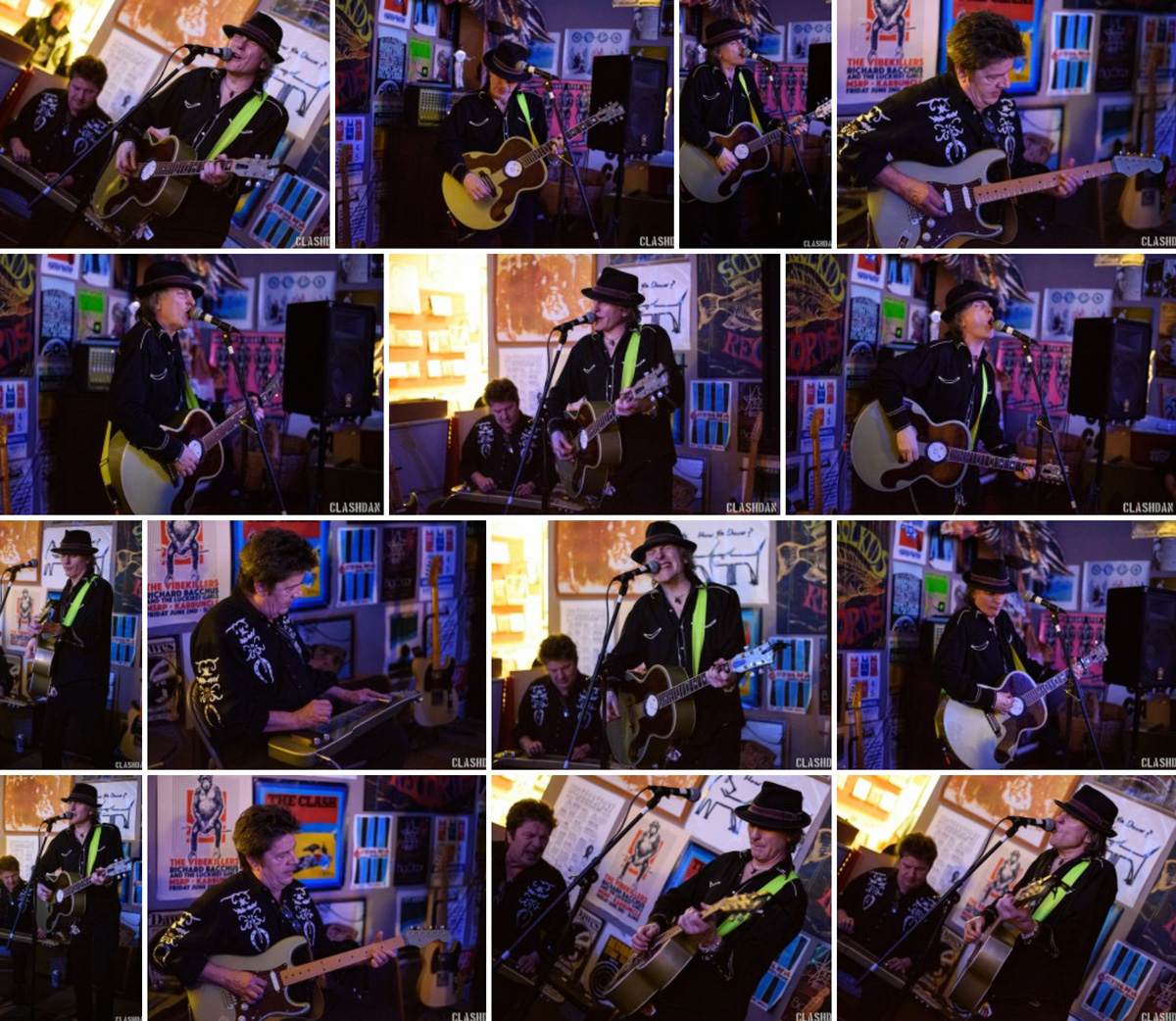 By Dan Kulpa
Replacements Bassist Tommy Stinson has been on quite a roll since the band called it a day in 1991. He formed the band Bash & Pop, spent time in the short-lived, hidden gem of a band, Perfect, played bass with Guns 'N Roses and Soul Asylum, released a pair of solo albums, and even joined Paul Westerberg in 2014 for a run of reunion shows with the Replacements. After stepping away from Guns 'N Roses in 2016, Stinson revived Bash & Pop and released the critically acclaimed album, Anything Can Happen. Rather than follow all that up with a well-deserved extended break, Stinson hopped in the car with Chip Roberts, his ex-wife's uncle and musical collaborator over the last ten years, to play a series of intimate shows as a stripped-down duo. Billing themselves as Cowboys in the Campfire, Stinson and Roberts have been hitting small, often non-traditional venues, including a recent stop at School Kids Records in Raleigh NC.
The current run of Cowboys In The Campfire shows have been hit with some weather-related cancellations due to a late season winter storm that covered the North East in snow, so Stinson and Roberts were as eager for the show as the dedicated fans that braved the cold rainy night in Raleigh. Prior to taking the stage, the duo milled around chatting with friends and fans… You don't get more intimate than that! As the lights dimmed, Stinson and Roberts made their way to the stage with little fanfare. After the first song, Tommy reminded the room that they were not experiencing a standard show with a barrier and security, and he urged everyone to move up and get close and personal.
Over the course of the next hour, Cowboys in the Campfire played some emotional acoustic versions of songs culled primarily from Stinson's solo album One Man Mutiny, that Roberts had a hand in writing, as well as some Bash & Pop material. The duo were engaging, funny, and entertaining as Hell. They chatted and joked with each other and their fans between songs, and even in the middle of a song or two. The evening's performance was a solid mix of songs and stories that ultimately made for a fun night out with a pair of talented and laid-back musicians.
Very rarely do music fans have the opportunity to catch a musician of Tommy Stinson's stature in such a small and intimate setting. Do yourself a favor and seek out the Cowboys in the Campfire tour, and if the duo is coming to your town make an effort to catch the show… You won't be sorry.