If you think Tommy Stinson has been part of your musical life for much if not all of it, imagine how he must feel.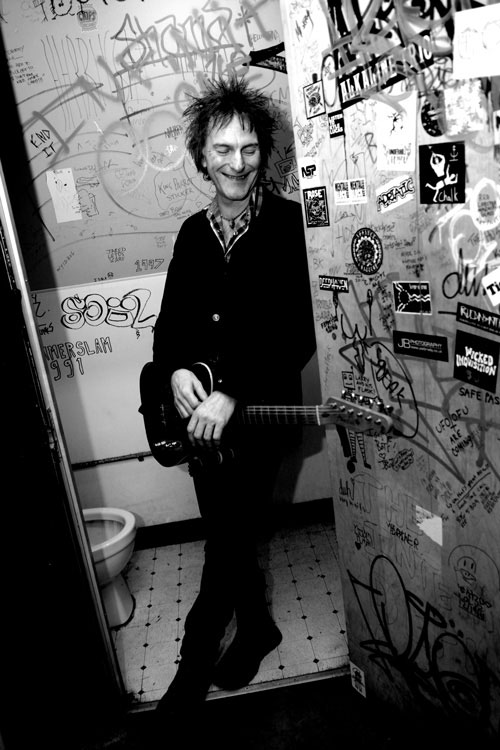 Hell, he's been doing this since he was a 10-year-old kid growing up in Minneapolis, banging away in the garage on his bass with his brother and friends, a group that would eventually become alt rock heroes The Replacements.
"Eleven years old, actually — not 10,"  Stinson interjects good-naturedly. "Eleven. But who's counting."
Well, if you're counting the number of years it's been, that would be approaching 40 and that would encompass a career that has been remarkable, seeing him play with the 'Mats, have tenures in other notable acts including Guns N' Roses and Soul Asylum, and have several of his own projects.
"It's been a little like Chutes and Ladders,"  he says of his musical journey. "A little bit of going off course and going down different roads, but ultimately it's the same game. It's always been the same game. Sometimes you skip ahead and go back, take a ladder down. I don't know, kind of like that."
The latest chapter in his life actually does find him sliding back down while also moving ahead. He's returned to — in name and spirit — his first post-Replacements project, Bash & Pop, which released the album Friday Night Is Killing Me way back in 1993.
The new album, Anything Could Happen, dropped earlier this year on Fat Possum Records, and it's a phenomenally shambolic offering that hearkens back to his early days, walking the line between aural anarchy and masterful barroom-ready guitar-rock.
"That's all I know, dude,"  Stinson says. "That's the gig."
It was recorded over a couple of sessions with different musical friends, the intent merely to capture a sound and an energy "without fussing around or with as little fussing around as possible,"  he says.
"We used to make records in a weekend in the early '80s, and I think there's something that you capture by doing that. And I really aimed to capture lightning in a bottle if I could, or at the very minimum let the songs capture what they were going to capture and be what they were going to be without trying to guide everything."
It was only when he played the material for others did he realize that in sound and feel it was as close to that first Bash & Pop record as he could get, deciding, "well, fuck, I have the name — I might as well continue on."
Actually and interestingly, some of the songs were originally considered for a possible Replacements reunion record.
He and frontman Paul Westerberg got back together in 2012, performing high-profile festival gigs such as Riot Fest in Toronto and Coachella, then embarking on a full tour in 2015, before once again disbanding later that year.
During that time, Stinson admits there were some attempts made to put some ideas on tape, but nothing came of it.
"We went and recorded some stuff three different times and really didn't get very far with it,"  he says.
"Some of the songs that made it on this record we recorded in Minneapolis. I think Minneapolis was the only place I busted any songs out, when we recorded at Flowers Studio, but for whatever reason, none of it really worked out. Whether we were half-assing it or at the wrong studio at the wrong time whatever the case may be for us it just didn't work out. So I took the songs back and put 'em on my own record."
As to whether or not that's a ladder he'll ever go back down again, return once more to the 'Mats, Stinson's answer is pretty much what you would expect.
"You know, you never say never. But, you know, I don't know."
He laughs. "How's that for an answer?"
His response to a query about possibly rejoining Guns N' Roses, a band he joined in 1998, recorded the album Chinese Democracy with, and toured as a member of until last year when he left on "good terms," that's a little more committal.
"I don't think they need me,"  he says, before summing up what seemed an odd marriage on paper — alt guy with arena band.
"That was a really good gig for me. I've got nothing bad to say about it. I was in that longer than any other band. And being in it, it was a lot of fun, it served me well, and I'm glad that all my friends are still very much out there kicking butt."
And for his part, Stinson's busy doing his own thing now, which isn't just focused on Bash & Pop.
He reveals that he's just recorded some new songs in Nashville with the man he calls Uncle Sippy, Chip Roberts, as part of their ongoing Cowboys In the Campfire project, which is a little quieter, a little more acoustic in nature.
"I've got a good balance going on,"  he says. "I can do the band thing with all the guys and do that rock 'n' roll stuff and go and have fun with that, and then I also got Chip and I which is a much more intimate show and equally fun in a lot of different ways … it's a lot less cacophony, just two guys with a couple of guitars making as much racket as we can drum up."
As for the racket he'll be making when he hits town for a pair of Bash & Pop shows as part of this year's Sled Island, helping him make it will be a band that performs on about two thirds of Anything Could Happen: drummer Joe "The Kid" Sirois from the Mighty Mighty Bosstones, Screeching Weasel's Justin Perkins on bass and Steve Selvidge from the Hold Steady adding some extra muscle in the guitar department.
Stinson says things are going so well that they've already got some new material and he plans to keep climbing this particular ladder for the time being, happy just to still be in the same game he's been playing since he was an 11-year-old kid.
"I am, I am,"  he says.
"This has been a lot of fun. This is the first time I've actually been able to focus on my own music solely … So I am having fun with it. And we've had a good reaction, people are really responding well to it and it gives us the ability to keep rolling, keep the name out there, keep some new material coming out, all of that."